After getting the system out of the closet, I took photos to document the current condition. Overall, it's in nice shape given its age. I didn't see anything structural that was damaged, e.g. no missing or broken plastic.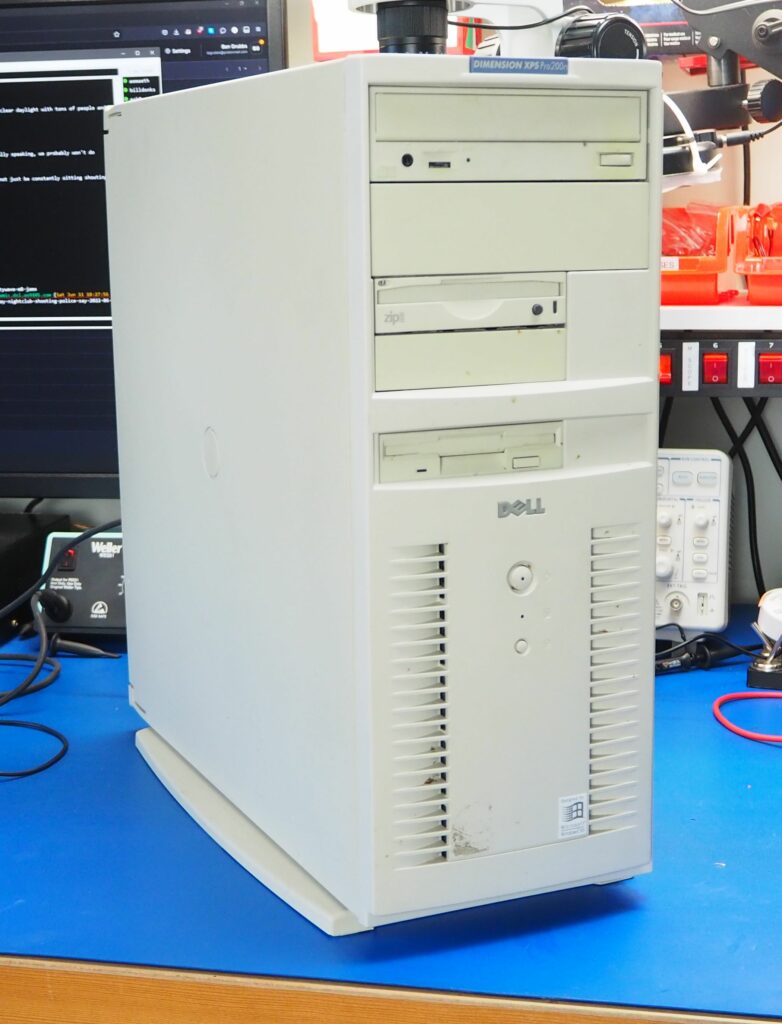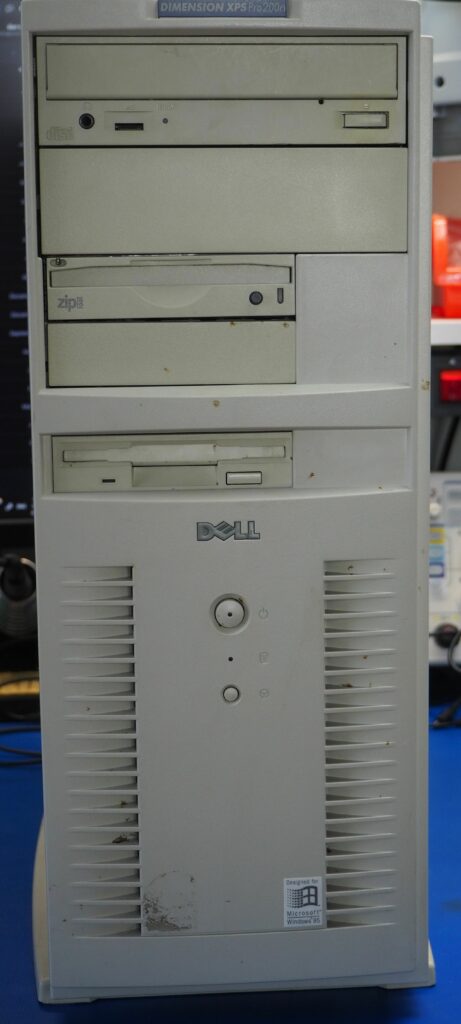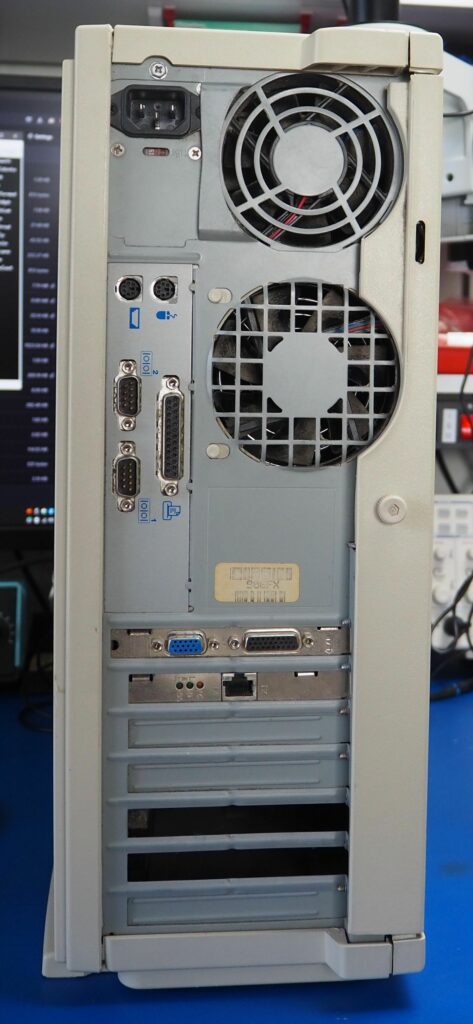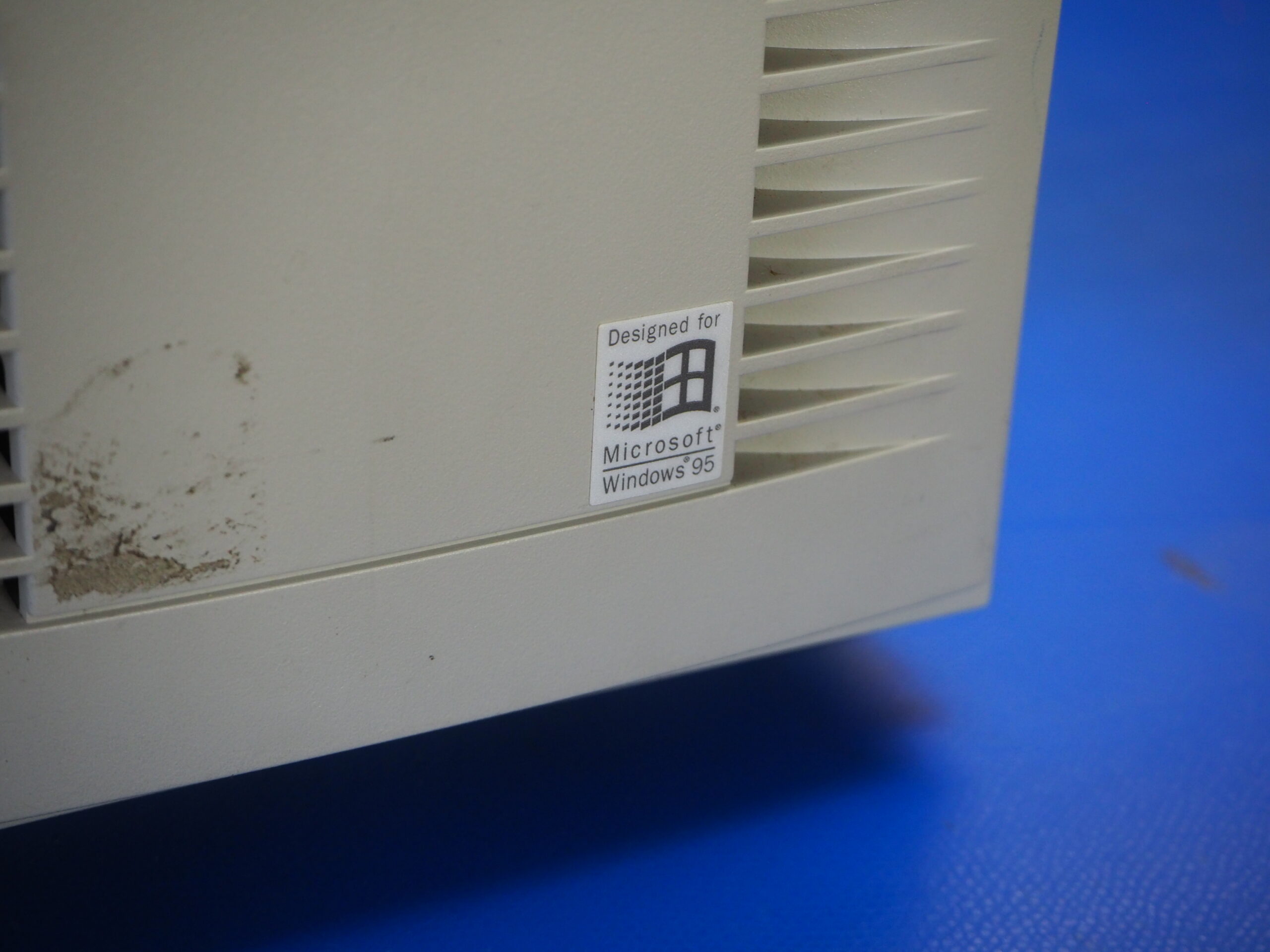 The plastic on the case as well as on the drives has yellowed over time. This is from exposure to UV light, and it can be reversed using a process called Retr0bright. There are some smudges and other marks that will need to be cleaned up as well.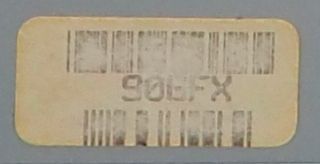 A sticker on the back panel has a barcode with the text "906FX" or "90GFX," but I think it's the former. Perhaps this is a precursor to the Dell service tag? Searching for this string, in either form, yields nothing relevant.
Moving on, it looks like both a video card and a NIC are installed. I'm fairly certain I added this NIC at some point after I took de facto ownership of the system. We must have had a modem installed, I think originally, because this was right around the time I was heavily into BBSing, and my dad would have been using Compuserve or Nando.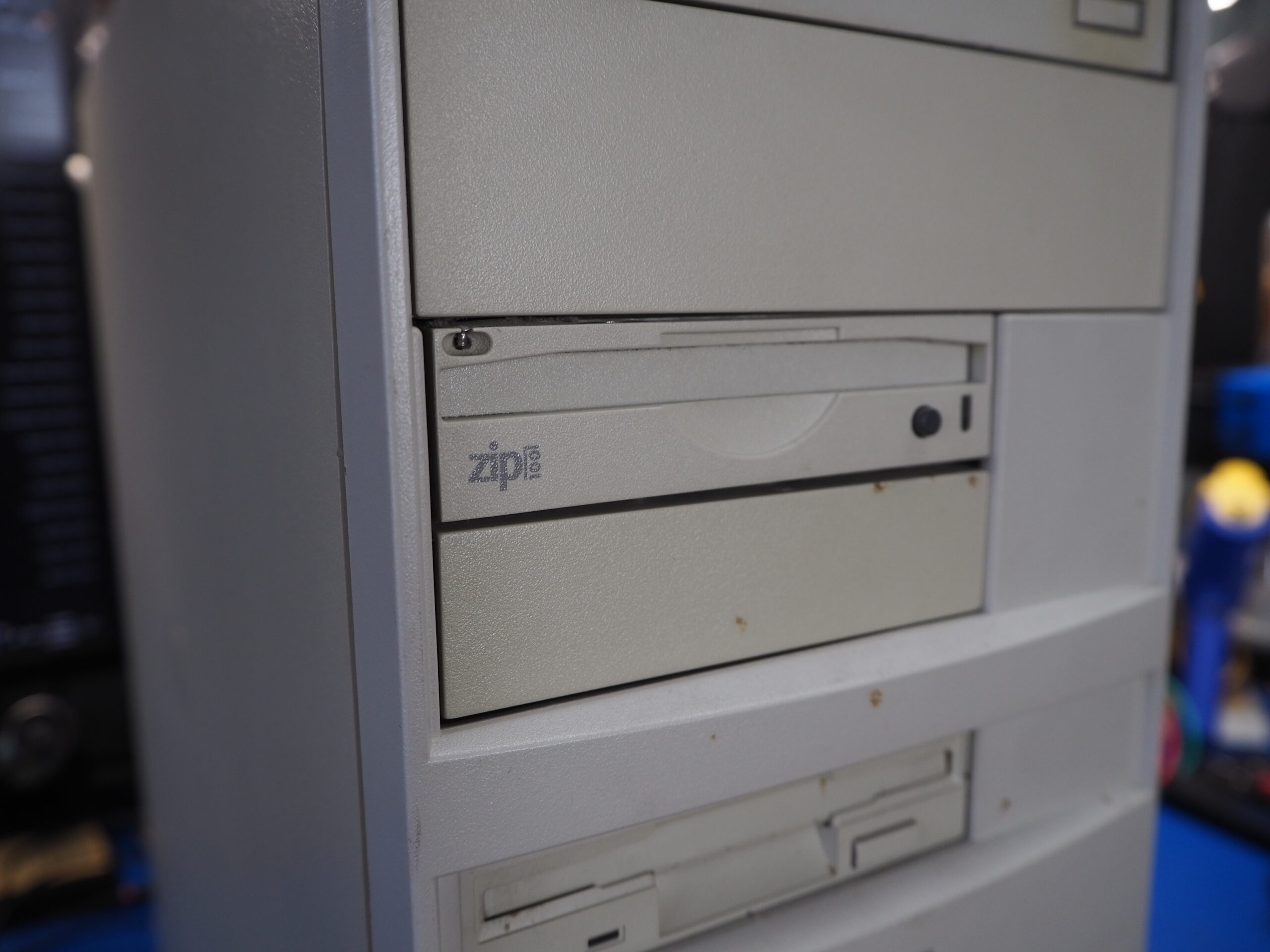 I do distinctly remember my dad opting for the Iomega Zip drive when we configured and ordered the system. At the time this was seen as a convenient and inexpensive way of storing a large amount of data on removable and rewritable media– all 100MB of it.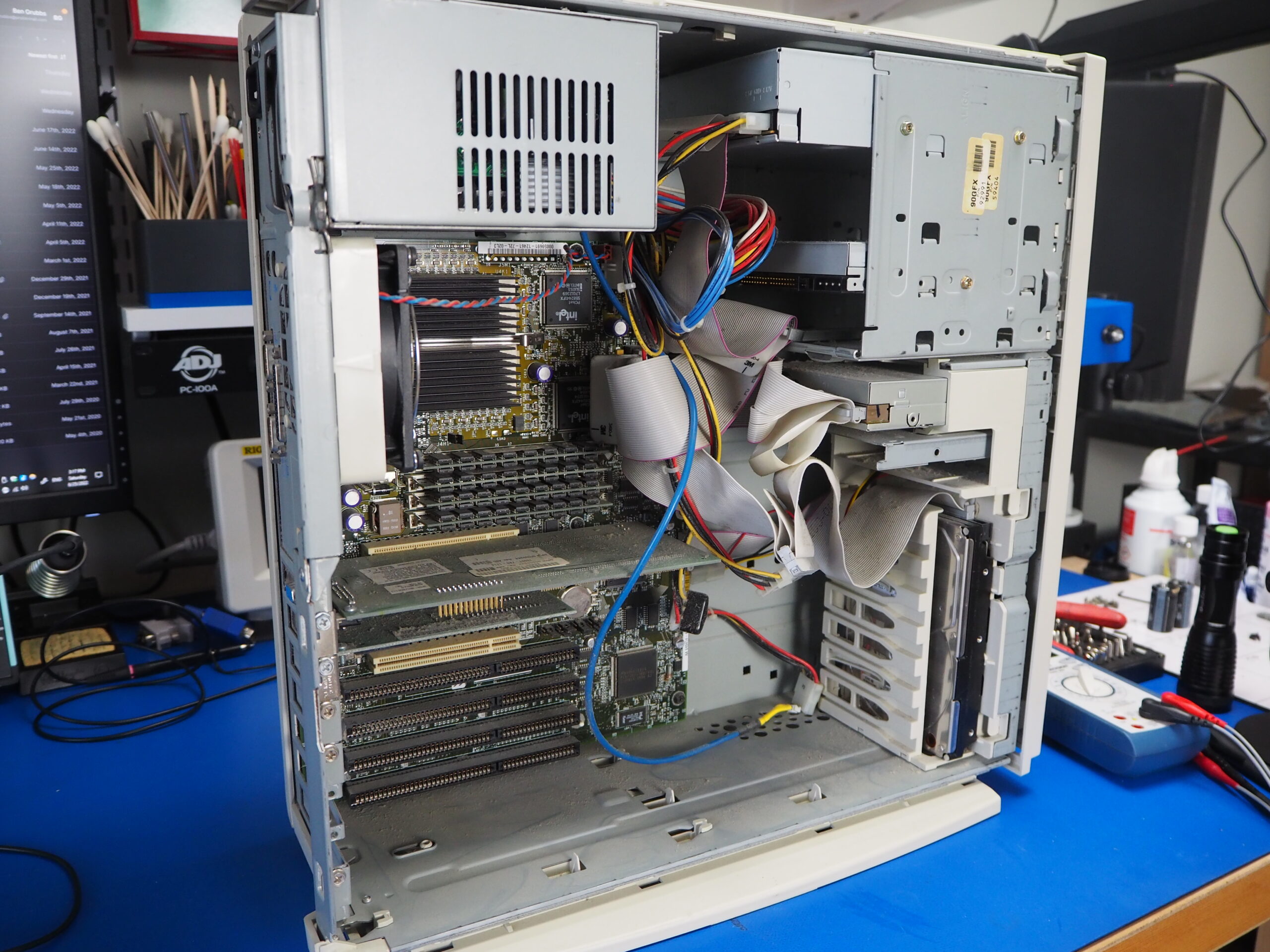 Removing the side panel was a cinch. The panel uses a single thumbscrew, and then two clips: one at the top, and one at the bottom that you depress and then slide the panel off. There was a decent amount of dust that I immediately vacuumed out, but pretty much everything is coated in it.
I hadn't seen SIMM memory modules in quite awhile, and it was cool to see a vertical mounting scheme for the HDD as I didn't think that was a popular method back then.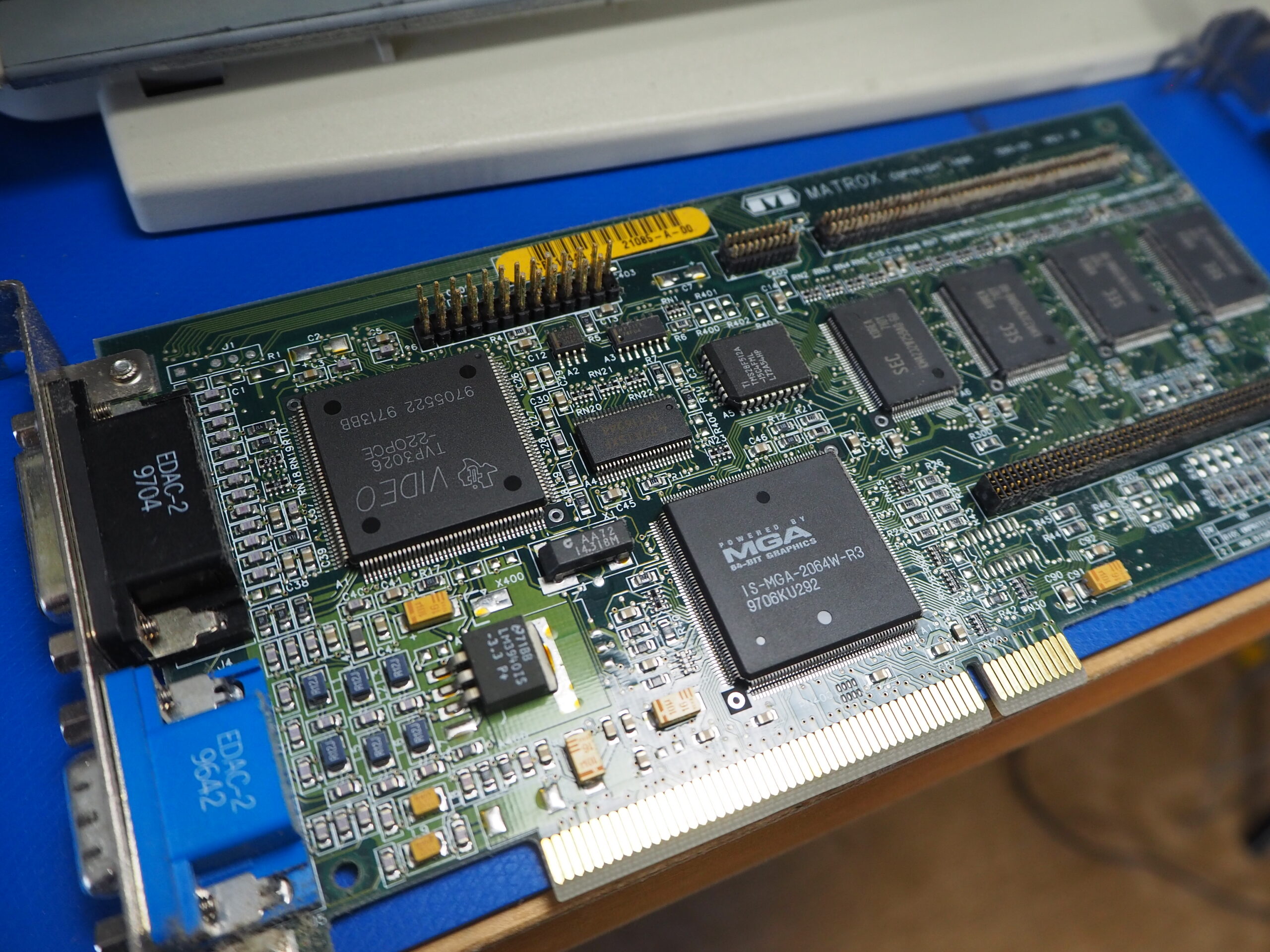 The video card is made by Matrox. The large QFP IC reads "Powered by MGA 64-bit graphics" and has a part number of "IS-MGA-2064W-R3." I did a quick search on this, and found an entry at the VGA Museum. There are many versions available, but I do see what look like 4 DRAM modules on the card. They are SEC KM4232W259A modules at 1 MB each, so this video card has 4 MB of RAM. There's also a code next to the Matrox silkscreen at the top of the PCB that reads "590-05," and this corresponds with the "Matrox MGA Millennium 4MB IBM" listed at the VGA Museum. We'll dive into the video card some more later on, but we now know that it is a Matrox MGA Millennium 4MB video card.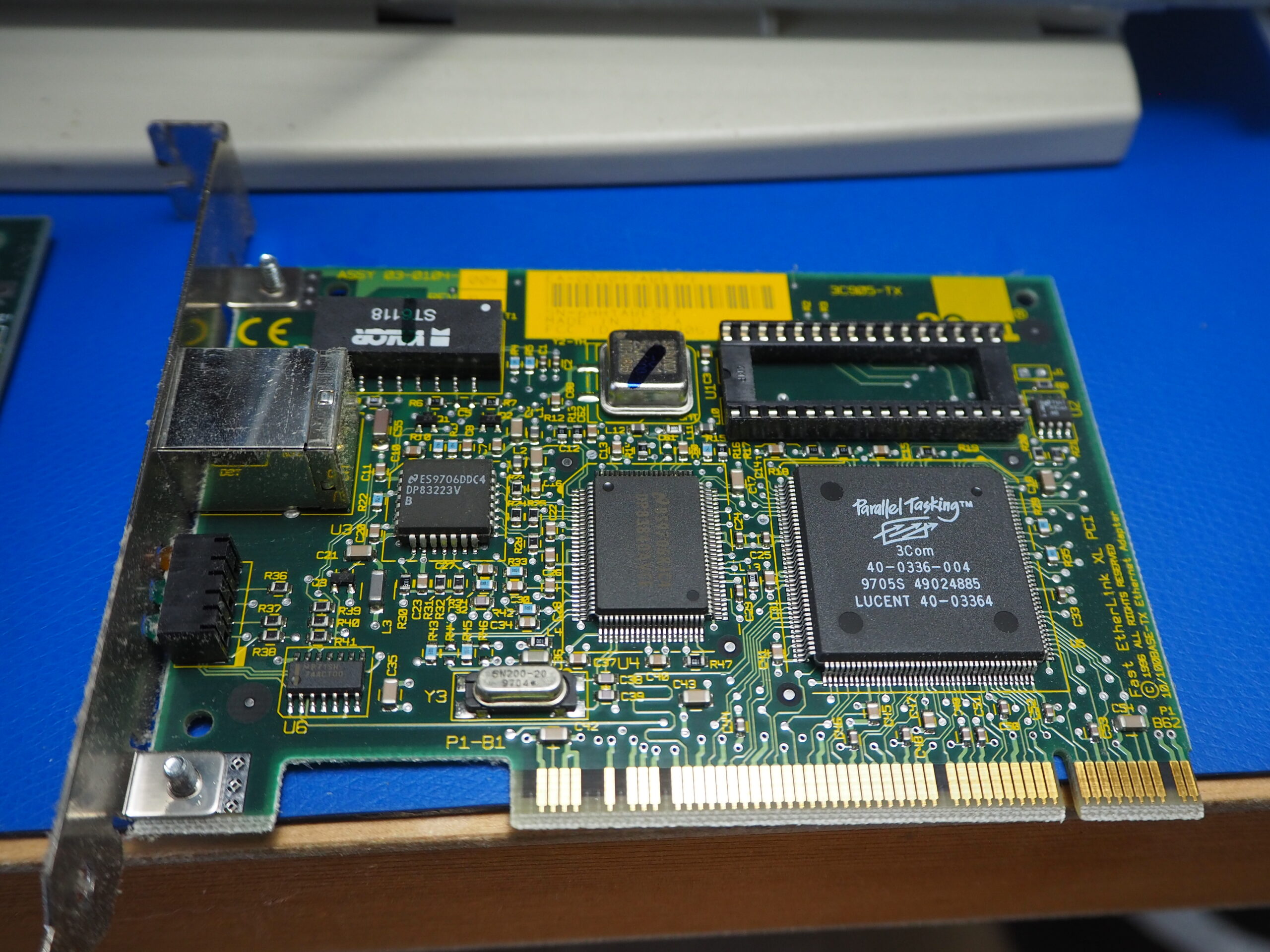 The only other card is a 3COM PCI NIC. I'm fairly certain this did not come with the system, so I'll need to verify that later on.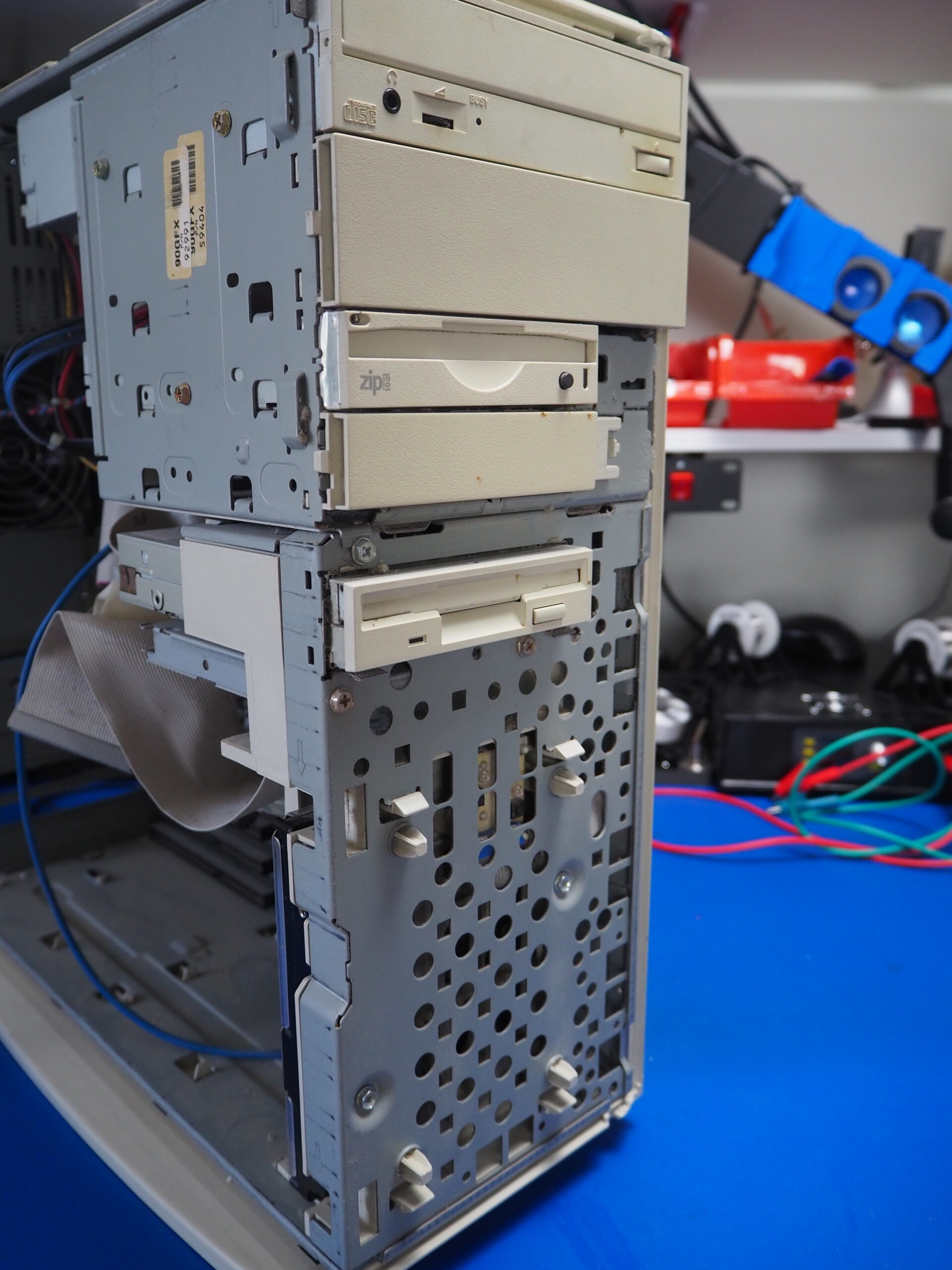 The front panel was removed by pressing three levers along the right side of the panel. With that removed, I could take out the floppy drive.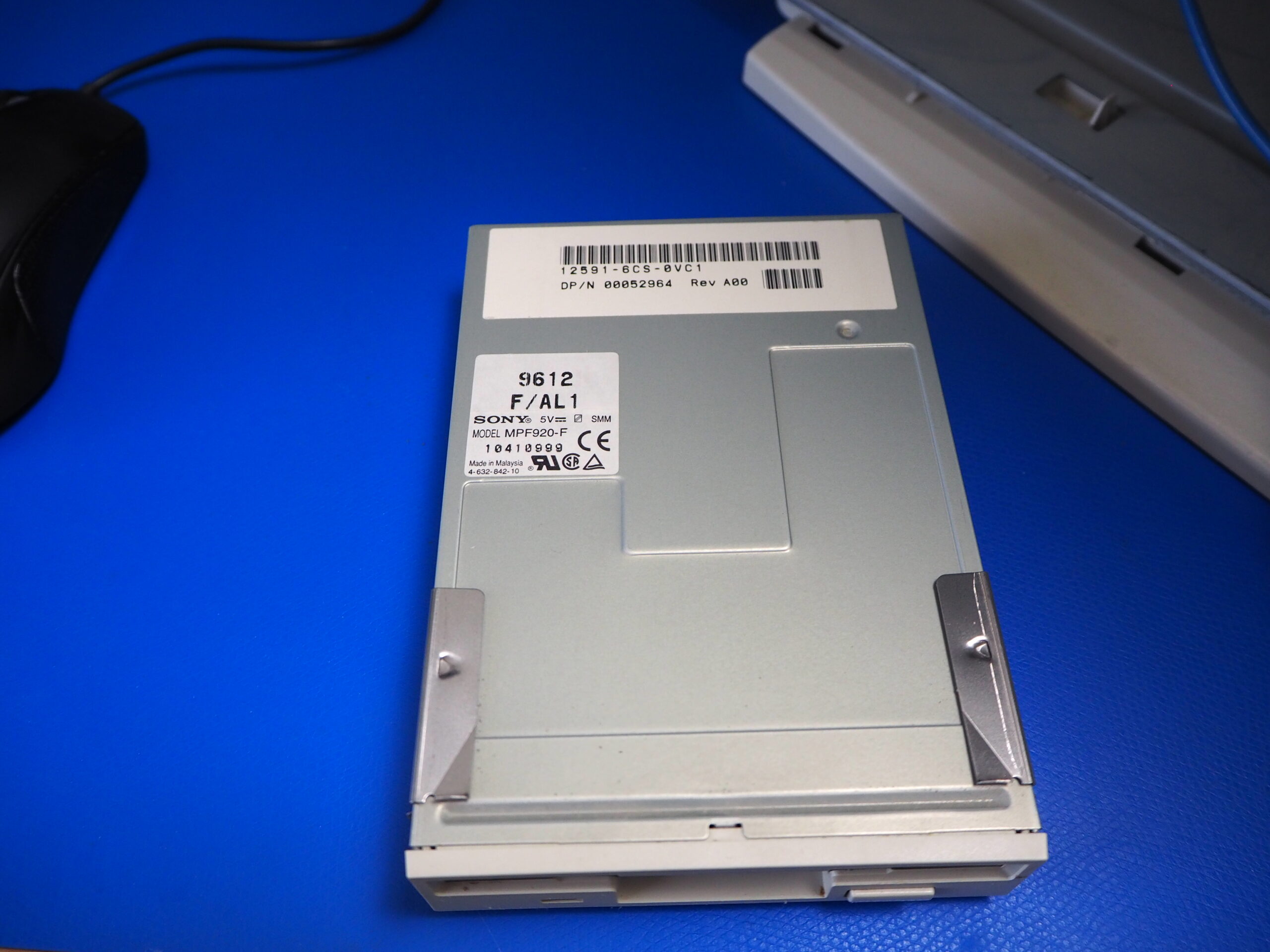 The floppy drive: a Sony MPF920-F 3.5″. It looks pristine in the above photo, but it sustained some accidental damage the next day. More on this later as well.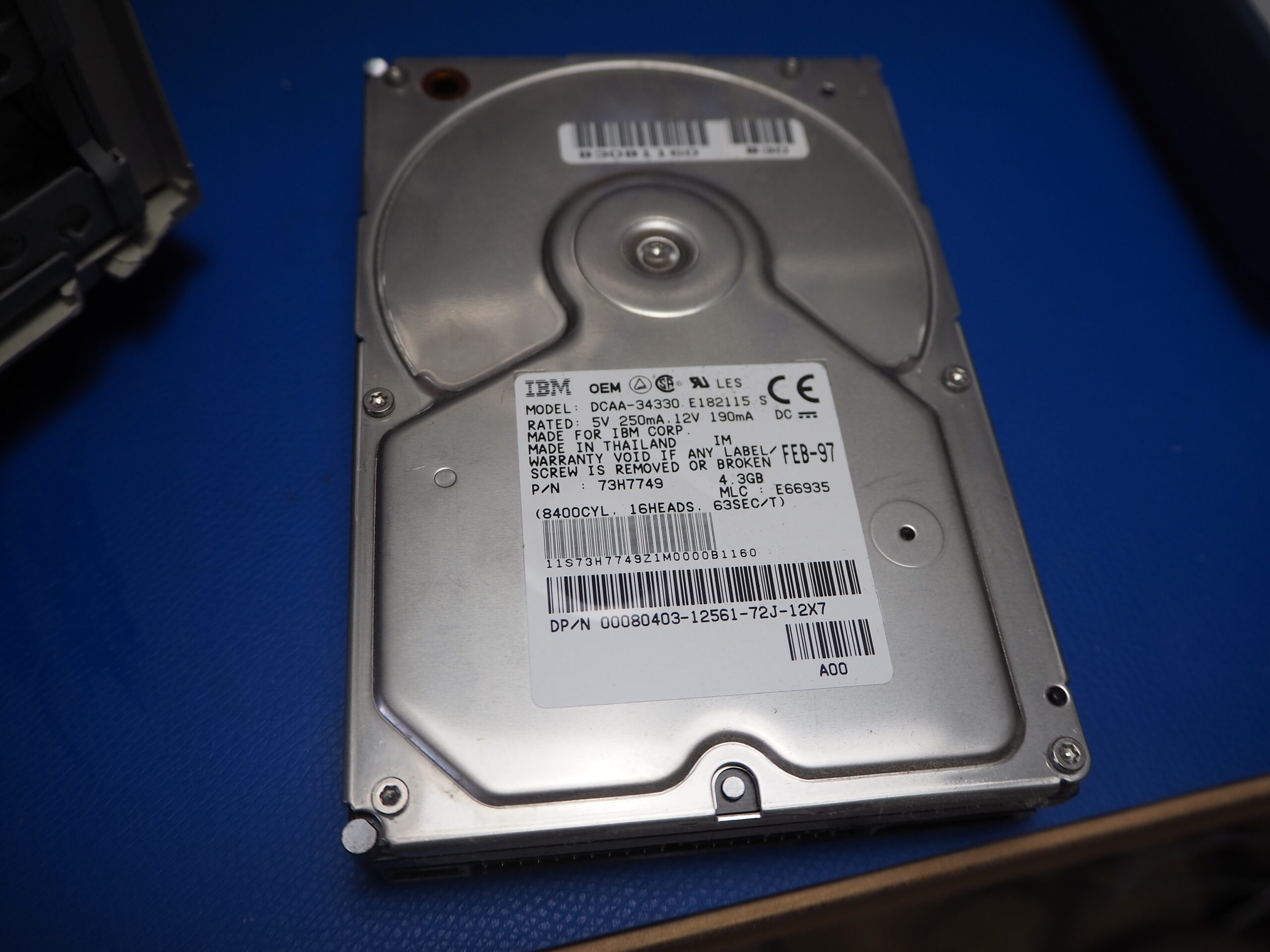 The hard drive is an IBM DCAA-34330 4.3GB IDE.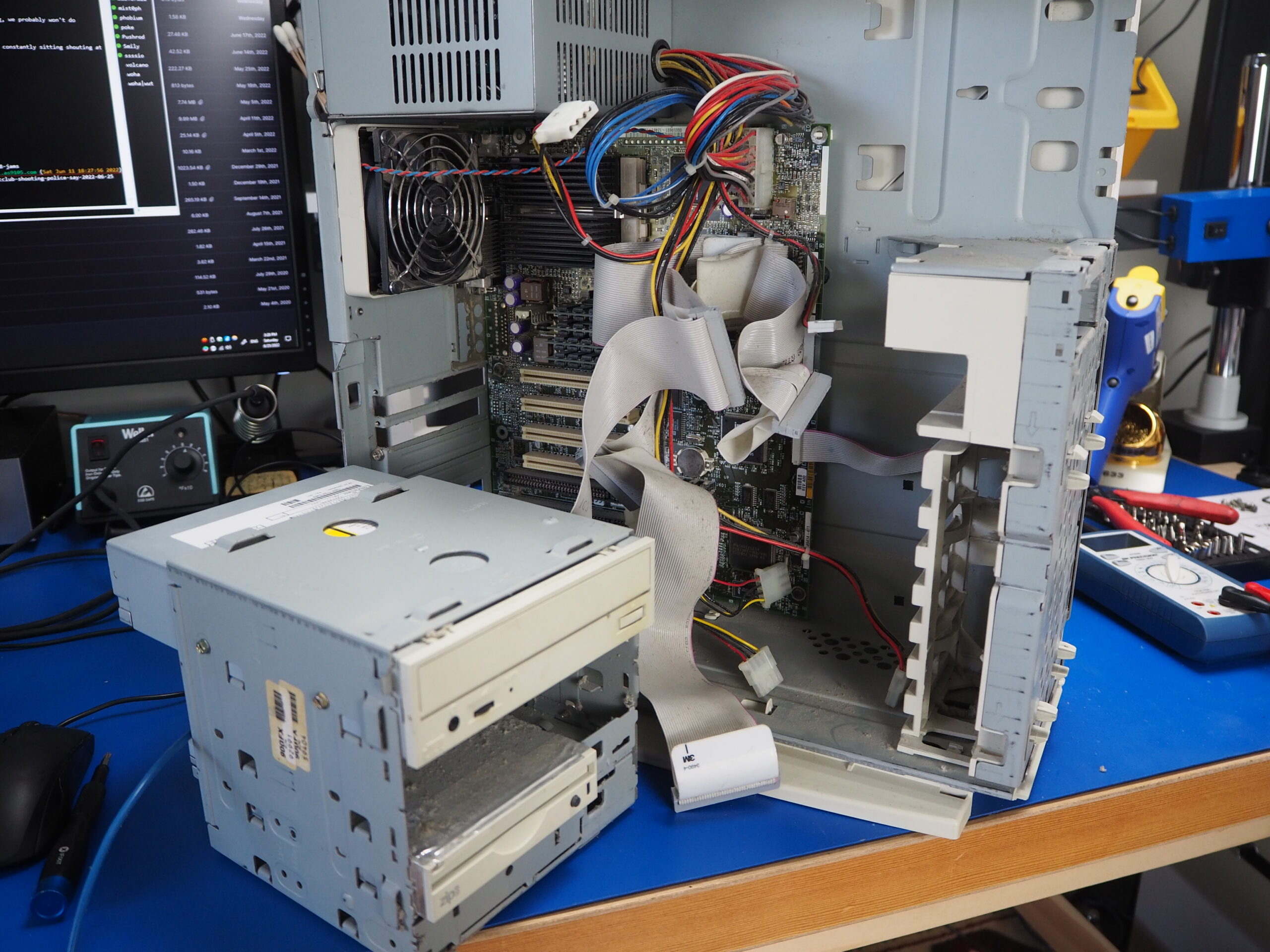 The optical drive and the Zip drive were housed in this removable caddy. Removing this made the structure of the case a little flimsy, so I'm not sure why this was meant to be removable. Maybe removing the other side panel is more of a pain than I'm anticipating…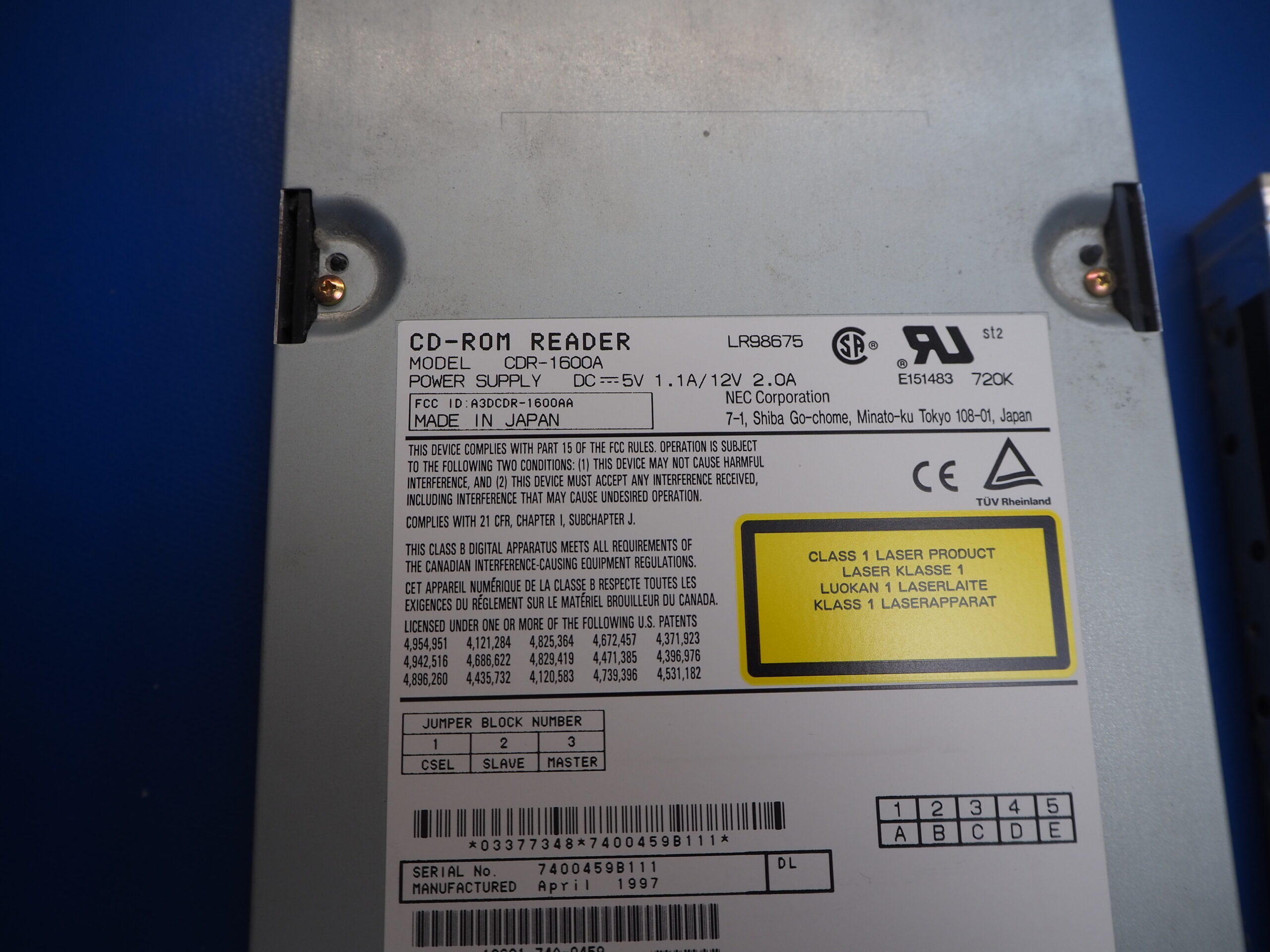 The CD-ROM drive is a NEC CDR-1600A. At the bottom, the manufacture date is listed as April 1997, so we know the system cannot be older than that assuming this drive was never upgraded or changed.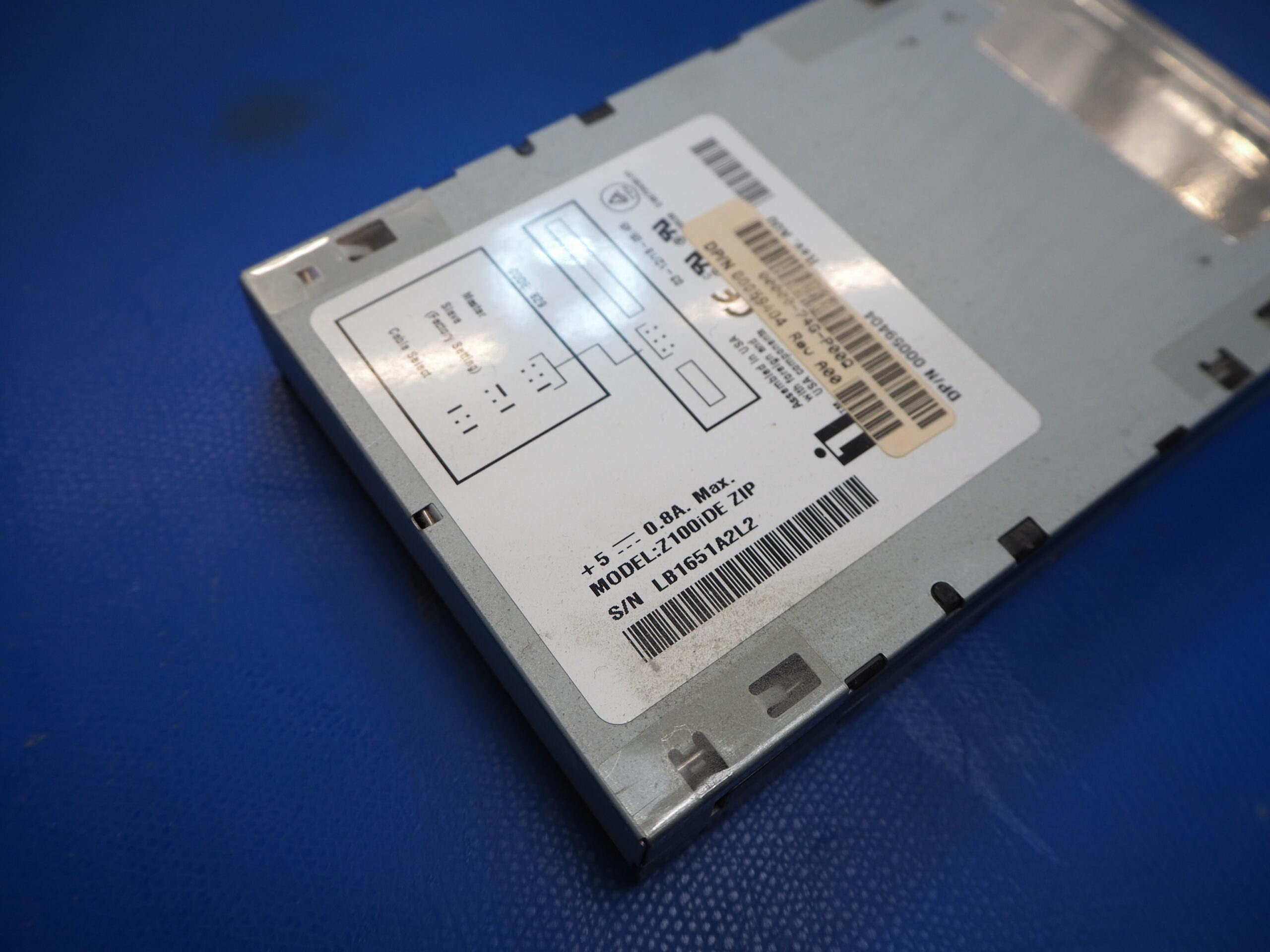 And finally, the Iomega Zip drive that was touched on earlier.
We'll get to the motherboard and other interesting bits later on.
The original configuration
Before going any further, it might be helpful to have something to compare the current hardware setup to, so we can determine if this hardware is actually original to the system or not.
The problem, of course, is that we're dealing with hardware from the mid-to-late 90s. There's no mention of this system on the Dell website in any sort of archive, so instead we'll have to rely on archived websites (if they exist) and any print media that might give us clues.
I know this system was purchased between 1995 and 1997. How? Because that's about roughly when the Pentium Pro was manufactured. We can further narrow that down from the CD-ROM drive manufacture date of April 1997, so it's likely on or after that date. With those dates in mind, we can look at archived versions of Dell.com: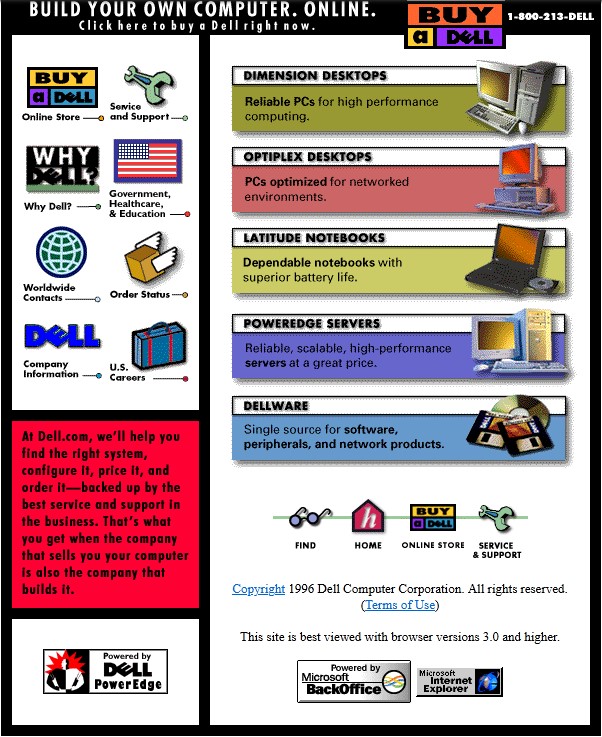 The earliest archived version of the site is from Dec 21, 1996 on the Wayback Machine. Clicking on Dimension Desktops, they have configurations listed for both Home Office and Small Business. Let's try Home Office:
Dimension XPS Pro200n

    200MHz Pentium® Pro Processor
    Mini Tower Model
    32MB EDO Memory
    256KB Internal L2 Cache
    3.2GB Hard Drive [9.5ms]
    20TD Trinitron Monitor (19.0" v.i.s., .26dp, 1600 X 1200 max. res.)
    Matrox Millennium 4MB WRAM Video Card
    NEW 12X EIDE CD-ROM Drive
    AWE32 Wave Table Sound Card
    Altec ACS-490 Full Dolby Surround Sound Speakers w/ Subwoofer
    33.6 U.S. Robotics Telephony Modem
    MS Office Professional with Bookshelf for Windows 95®
    MS Office 97®, Small Business Edition Upgrade Coupon
    MS Windows 95/MS Plus!® CD/30 Days Free Support
    MS Mouse
    3 Year Limited Warranty with 1 Year On-Site Service 

Price Configure Buy Product Code #501119
$3,799
What a powerhouse. How about the Small Business configuration?
Dimension XPS Pro200n

    200MHz PENTIUM® PRO PROCESSOR
    Mini Tower Model
    64MB EDO Memory with ECC
    256KB Internal L2 Cache
    3.2GB Hard Drive [9.5ms]
    20TD Trinitron Monitor (19.0" v.i.s., .26dp, 1600 X 1200 max. res.)
    Imagine 128 Series 2 Graphics Accelerator with 4MB VRAM
    NEW 12X EIDE CD-ROM Drive
    MS Office Professional with Bookshelf for Windows 95
    Microsoft Windows NT Workstation 4.0/30 Days Free Support/
    MS Mouse
    3 Year Limited Warranty with 1 Year On-Site Service 

Price Configure Buy Product Code #501110
$4,299
$4,299 is equivalent to $8,000 in today's money. That's insane. These are the highest configurations I pulled from the archived site. They did actually have a configurator linked, but the server-side dependencies are long gone. On a side note, the other, cheaper configuration listed for the Small Business category used a SCSI HDD and CD-ROM drive. Both were smaller in capacity and slower in speed, respectively, to the higher priced config.
Moving forward in time, let's see when the Pro200n was no longer listed on their site. Well, the very next archive from June 5, 1997 no longer lists the Pro200n or any Pentium Pro desktops as available configurations. This makes sense, because processor speeds and technology in general were rapidly advancing at the time.
To track this down further, let's look for advertisements. I assumed they would be advertising the system right up until the point it was no longer available. I hopped over to https://books.google.com and searched for "pro200n."
I found a ton of results, and thankfully, a bunch of scanned and archived PC Mag issues. The latest advertisement I could find with system specs was from the June 24, 1997 edition:

Some of the specs match up, but this system does not have two USB ports, so it must be an earlier configuration.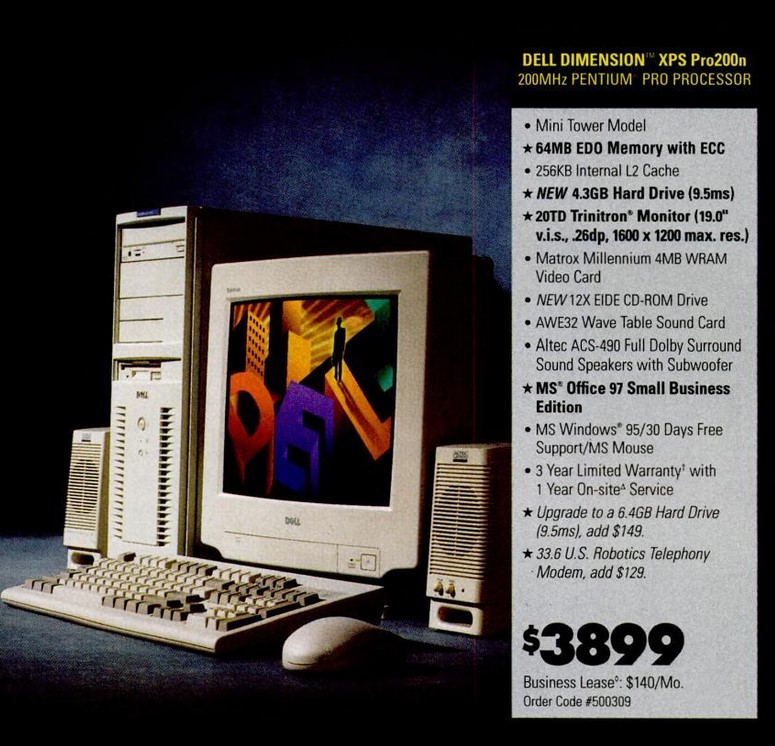 An advertisement in the April 22, 1997 edition looks like it matches up except for the CD-ROM drive. Let's look a bit later…

This matches my system except for the hard drive capacity. So it's likely the system was purchased somewhere in April or May 1997, but no later since Dell added USB ports as standard some time in June. I know Dell offered options when ordering a PC, so it's entirely possible that my dad opted for a smaller hard drive, or upgraded to the faster CD-ROM at the time.
No NIC is listed in any configuration, so that confirms I installed this later on. We'll disregard it for now.
The Plan
I want to retain as much of the original system as possible, but also keep it true to Dell's spec. That means we'll work off of the above advertisements to get the system up to its most likely original configuration. We know, for instance, that there is no modem or sound card. The sound card was standard, so that's definitely missing. The modem was an option, and I know the system had one at some point, so we'll make the assumption it had the modem listed in the advert.
So here's a run-through of what I have in mind:
Evaluate the condition of all components
Dust removal and clean-up
Repair and refurbish all components as needed
Replace missing or non-original components
Test and first power-on
Restore plastic
Software installation
Bask in 90s glory
Much of what I plan to do isn't necessary for a running system. Hell, it probably runs just fine right now. I'm sure I could power it up and expect a working system. The point of this whole exercise though is the journey. We'll be getting down to the most minute details in this restoration, and hopefully learning lots of history, technical and engineering knowledge, and maybe even discover a few surprises along the way.